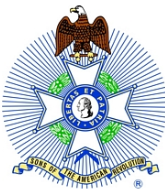 SONS OF THE AMERICAN REVOLUTION
The SAR is a patriotic, historical, and educational non-profit corporation, United States 501(c)3, that seeks to maintain and extend the institutions of American freedom, an appreciation for true patriotism, a respect for our national symbols, the value of American citizenship, and the unifying force of e pluribus unum.
AMERICAN LEGION BEAVERTON POST #124
Our American Legion Post has been welcoming VETERANS from all branches of our Armed Forces. Today, we continue to welcome all military personnel serving our country. Joining our Post enables you to continue serving your God, Country and Community Our mission is to implement the goals, aspirations, dreams, peace and blessings for our country, friends and families embodied in our preamble.
CITY OF BEAVERTON
The City of Beaverton is located seven miles west of Portland, Oregon, in the Tualatin River Valley, encompasses 19.6 square miles, and is home to more than 95,000 residents. The city is Oregon's sixth largest city and the second-largest incorporated city in Washington County.
This is a labor of love and committment by many dedicated individuals, schools, organizations and government agencies. These are the people who are charged with the research, and the digging through tons of records to gather the data to not only be placed on the physical memorial, but to be placed in one database online for all to read any time and from anywhere in the world.
THANKS TO THESE ORGANIZATIONS FOR MAKING THIS POSSIBLE
BEAVERTON SCHOOL DISTRICT
The unified Beaverton School District was founded in July 1960. Today, we educate more than​ 40,000 students in 51 schools. We are the third-largest school district in Oregon. Beaverton schools are dedicated to providing outstanding, challenging educational opportunities that prepare all students to be college and career ready.
BEAVERTON CITY LIBRARY
The Beaverton City Library, the second busiest library in the state, serves a population of approximately 142,000 (the population of Beaverton plus a portion of the unincorporated residents of Washington County). Each month over 84,000 people visit the Library to check out nearly 300,000 items. The total annual circulation exceeds 3.3 million items. The Library has two facilities each open seven days per week.