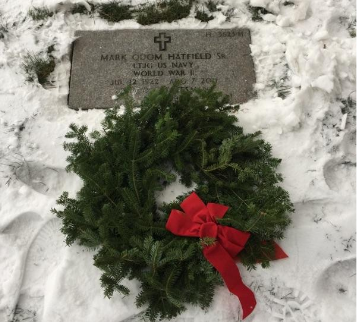 Join us at the 2017 Veterans Day Parade in the Hollywood District of Portland starting at 9:30 am.
Starts at 40th and Sandy Boulevard and travels down Sandy Ends at Sandy & 48th in front of Ross Hollywood Chapel.
Our SAR booth will also be there where you can sponsor a wreath for the Wreath Across America program. For $15 you can buy a wreath for a veteran's grave at Willamette National Cemetery on Dec 17. $5 from each wreath sale goes to the Oregon Revolutionary War Memorial.
REMEMBER the Fallen. . . HONOR those who Serve. . . TEACH our children the value of Freedom.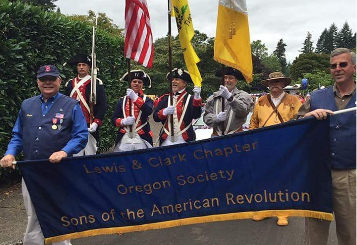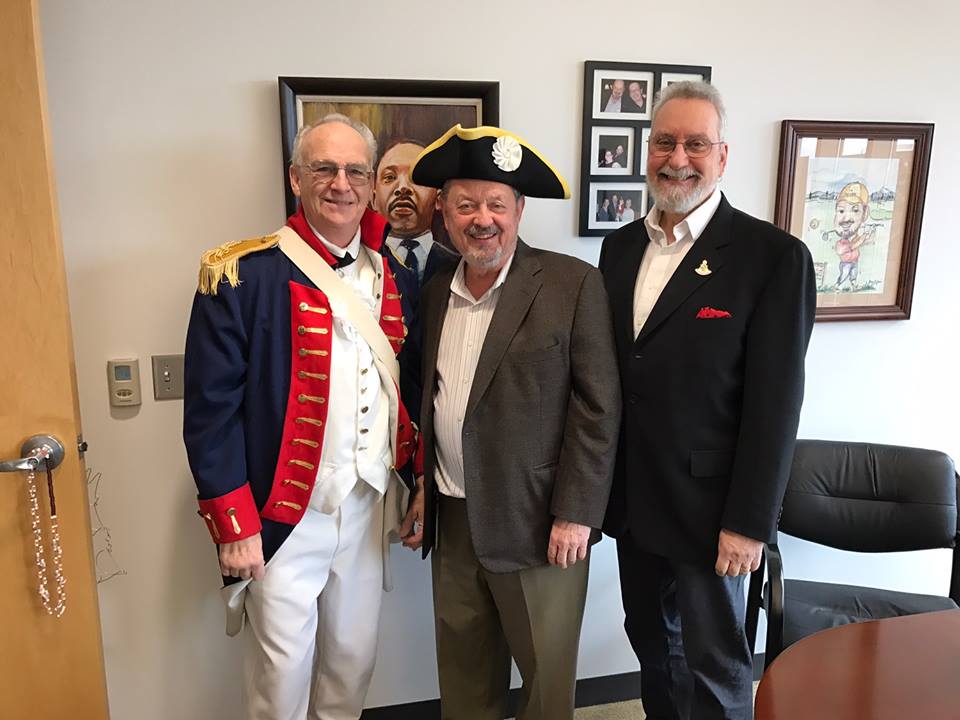 Our April 6, 2017 meeting with Mayor Denny Doyle of Beaverton, Oregon

Grier Ingebretsen, Sons of the American Revolution, and Michael Tieman, Oregon Revolutionary War Memorial, visit with Mayor Doyle.
We presented our revised design for the ORWM and he was enthusiastic as you can see and promised support. Thank you Mayor Doyle.
Meet our first Partner, the Beaverton City Government.
April 28, 2017 two new Partners join our ranks

The Beaverton City Library has agreed to help us with our information gathering. Once everything is in place they can supply us with hot links to information on the internet, a link to their powerful library Search web site where you can find a book in the library system on the subject of interest and finally a link with a contact at their Research section. Our thanks to Abigail Elder, Director, Beaverton City Library.
The Beaverton School District will be working with us on how their students can be involved with adding reports, projects and art to this site. Maureen Wheeler, Public Communications Officer, Beaverton School District has been our champion on this project as liaison between us and the Principals and teachers of the elementary schools - 5th grade, middle schools - 8th grade and high school - APHistory. Thanks Maureen.
Over the next month or so we can tell you more and show you some results.
Looking foreward to working with these fine institutions.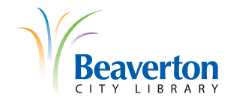 This is the area where members of the press can find detailed information about ORWM and its many programs and activities.
We laid wreaths at Willamette National Cemetery Dec 16, 2017 for Wreaths Across America
The Lewis & Clark Color Guard of the Sons of the American Revolution laid wreaths on the veterans graves at Willamette National Cemetery. The ceremonies began in the cold and snow at 1pm on Saturday, Dec. 16 thanks to the Civil Air Patrol and representatives from all of the branches of the military. At 2:30pm our Color Guard fired a musket volley in salute.
Volunteers then laid the wreaths purchased through the Wreaths Across America program on the graves of the veterans at Willamette. This year, the chapter's first year in the WAA program we sold 160 wreaths and we laid 53 of the wreaths on specific graves. All proceeds from the sales were added to our Oregon Revolutionary War Memorial fund.
REMEMBER our fallen U.S. veterans. HONOR those who serve.TEACH our children the value of freedom.
Compatriot Grier R. Ingebretsen 1942-2017
Cancer took our Compatriot Grier R. Ingebretsen on December 25, 2017.
Grier was very involved, active and committed to the Sons of the American Revolution holding offices and leadership positions in our own Lewis & Clark Chapter as well as in the Oregon State Society. He loved to be part of a Revolutionary War Era Color Guard proudly marching in parades and local events. Grier was proud of his heritage, patriotic and a real history buff, devouring history books.
Grier's passion and all-consuming dream was the Oregon Revolutionary War Memorial to be placed in Beaverton's Veteran's Memorial Park. He had the vision, spearheaded and championed the project but has failed to see it to completion, leaving the final work to those he left behind. We must not let him down.
The Lewis & Clark Continental Color Guard sent him off to his final destination with a musket volley. Even the pouring rain and wind could not stop us from giving our friend and compatriot a final salute.
Thank you, Grier, for all you have done and your friendship and passion for the SAR. You will be missed our friend. We have the watch.